FREQUENTLY ASKED QUESTIONS
WHERE DO YOU PLAY?
ALL games in 2021 will be held at Queens Park

Boys held on Wednesday afternoons

Girls on Thursday afternoons
WHAT DATES DO YOU PLAY?
Summer comp will run for 12 weeks total, 10 rounds + 2 round of finals 
Boys Comp:
Girls Comp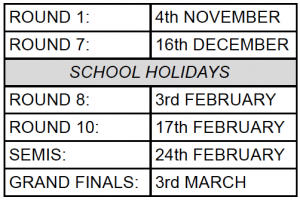 WHAT TIMES ARE THE GAMES
We run 3 time slots each week: 4:05, 4:40 and 5:15. 

Our divisions do not have set ties

We do take time requests alongside registrations. (write somewhere on registration form or include visibly in email)

 
WHAT IS MY ROLE AS A MANAGER?
Gather all player information required on the registration form

Collect player payments as a lump sum to be paid to us (see below)

Organise team shirts
Forward any information to all parents/players sent from Easts Oztag

Ensure the team are aware of the draw and turn up on time , or to text Blake at 0466 482 500 ASAP for a forfeit

 
HOW DO I REGISTER A TEAM?
Please see Registrations tab

Registrations open

Thursday 1st July

and close

Friday 29th October
Complete the following form and EMAIL direct to: eastsjuniors@oztag.com.au 
HOW MUCH IS REGISTRATION?
Registration is $100 per player

We ask all team managers to collect team payment as one lump sum,

$100pp

is then paid to the account below (please no individual payments direct to us, these all need to go through your team manager). 

Be sure to include Team Name in Reference

REGISTRATION DAY: If you wish to pay in cash we will be holding a registration day at Centennial Park on a date TBC
All payments and registrations must be received by midnight Friday 29th October 2021
NAME:  EASTS JUNIOR OZTAG
BSB:      062-136
ACC:      1047 3170
HOW DO I REGISTER AS AN INDIVIDUAL?
At Easts Juniors we love taking in both individual players and small groups of friends to create brand new teams or fitting in players to existing teams!

Please fill out the following Google Form and we will be in contact before start of competition regarding team and payment info.
WHAT IS THE UNIFORM?
Each player must be wearing official Oztag branded shorts or tights to participate. These will be sold at the registration day and also at the grounds ($30 for shorts, $35 for tights) or can be purchased online at oztagger.com.au

We do allow all kids to wear any design of branded Oztag shorts

As teams we require all teams to be in matching shirts by round 3 of competition, these must be arranged by the team.

Age 6's – 9's need only to have matching shirts

Age 10's – 17's need to have numbers on the back

 
WHAT AGE DIVISION AM I IN?
2021 AGE DIVISIONS

6's – Born 2015 or 2016 (players must at least be in Kindergarten class)

7's – Born 2014

8's – Born 2013

9's – Born 2012

10's – Born 2011

11's – Born 2010

12's – Born 2009

13's – Born 2008

14's – Born 2007

15's – Born 2006

16's – Born 2005

17's – Born 2004
IS THERE TRAINING?
As Oztag is a recreational sport we do not conduct trainings, although we do encourage teams to train to improve their skills should they find the time

 
WHAT ARE THE REP PLAYER RULES?
Easts Juniors is a recreational sport with the majority of teams formed through friendship groups. As such we have decided to implement a strict 4 REP PLAYER MAX rule, this will apply to any players who played in any first division team at the previous 2 State Cups, 2020 and 2021 (this includes players not just from Easts, we will work with neighbouring competitions to help enforce this rule as well). 

Division 2 players are encouraged to split up where possible. We will contact the team if there are any problems.

NOTE: We do not enforce this rule in an attempt to break up friends made through our representative teams, but rather to encourage our strongest talent to be spread across multiple teams. This will not only provide friendly competition between teams but allow our rep players to enjoy oztag with other friend groups whilst attracting new players to the sport!

 
DO WE NEED A COACH?
While not necessary, we encourage our teams to have someone on the sideline to help with fair substitutions and provide guidance where it is needed. 

Ages 6's – 9's are allowed a coach to follow the children on the field helping them to play the game and making sure all kids get an even go.

From 10's onward the coach must stand on the sideline with the substitutes